St Swithun's
St Swithun's School is a renowned independent day, weekly and full-boarding school for girls set in 45 acres overlooking the Hampshire Downs on the outskirts of Winchester, yet only 50 minutes by train from central London.
"Many schools claim they bring out the stardust in every child but surely none can compete with St Swithun's."
The school has a long-standing reputation for academic rigour and success. Girls are prepared for public examinations and higher education in a stimulating environment in which they develop intellectual curiosity, independence of mind and the ability to take responsibility for their own learning. They achieve almost one grade higher at GCSE than their already significant baseline ability would suggest, and approximately half a grade higher at A level. Whilst achieving academic excellence, girls also have the opportunity to do 'something else'. There is an extensive co-curricular programme of over 100 weekly and 50 weekend activities to choose from.
With kindness and tolerance at the heart of its community, St Swithun's provides a civilised and caring environment in which all girls are valued for their individual gifts. By the time a girl leaves she will be courageous, compassionate, committed and self-confident with a love of learning, a moral compass and a sense of humour.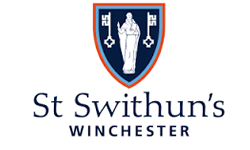 Enquire about: St Swithun's
Head
Ms Jane Gandee
School Type
Combined school for girls
Senior Age Range
11 - 18
Academic
GCSE: Yes
Alevel: Yes
Int'l Baccalaureate: No
Vocational
| | |
| --- | --- |
| Snr Boarding Fees | £12,780.00 per term |
| Sixth Form | £12,780.00 per term |
| Forces Discount | 20 % discount |
| | |
| --- | --- |
| Total Students | 512 |
| Youngest Boarder | 11 |
| Int'l Students | 80 |
| | |
| --- | --- |
| Closest Airport 1 | Southampton (20km) |
| Closest Airport 2 | Heathrow (80km) |